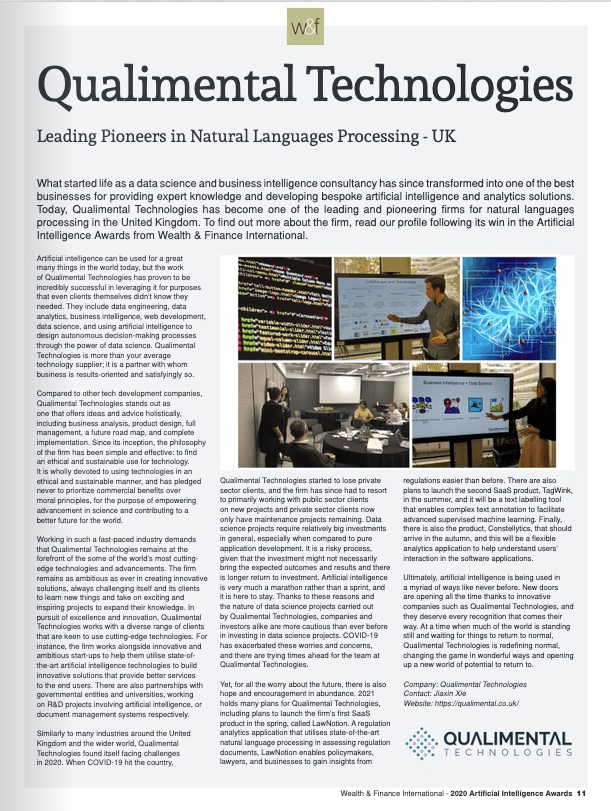 Qualimental Technologies has been awarded the "Leading Pioneers in Natural Language Processing – UK" in the 2020 Artificial Intelligence Awards.
The link to the magazine:
https://www.wealthandfinance-news.com/issues/artificial-intelligence-awards-2020/10/
What started life as a data science and business intelligence consultancy has since transformed into one of the best businesses for providing expert knowledge and developing bespoke artificial intelligence and analytics solutions. Today, Qualimental Technologies has become one of the leading and pioneering firms for natural languages processing in the United Kingdom. To find out more about the firm, read our profile following its win in the Artificial Intelligence Awards from Wealth & Finance International.
Artificial intelligence can be used for a great many things in the world today, but the work of Qualimental Technologies has proven to be incredibly successful in leveraging it for purposes that even clients themselves didn't know they needed. They include data engineering, data analytics, b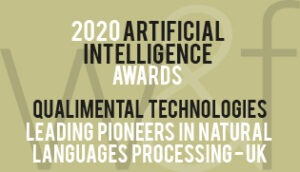 usiness intelligence, web development, data science, and using artificial intelligence to design autonomous decision-making processes through the power of data science. Qualimental Technologies is more than your average technology supplier; it is a partner with whom business is results-oriented and satisfyingly so.
Compared to other tech development companies, Qualimental Technologies stands out as one that offers ideas and advice holistically, including business analysis, product design, full management, a future road map, and complete implementation. Since its inception, the philosophy of the firm has been simple and effective: to find an ethical and sustainable use for technology. It is wholly devoted to using technologies in an ethical and sustainable manner, and has pledged never to prioritize commercial benefits over moral principles, for the purpose of empowering advancement in science and contributing to a better future for the world.
Working in such a fast-paced industry demands that Qualimental Technologies remains at the forefront of the some of the world's most cutting-edge technologies and advancements. The firm remains as ambitious as ever in creating innovative solutions, always challenging itself and its clients to learn new things and take on exciting and inspiring projects to expand their knowledge. In pursuit of excellence and innovation, Qualimental Technologies works with a diverse range of clients that are keen to use cutting-edge technologies. For instance, the firm works alongside innovative and ambitious start-ups to help them utilise state-of-the-art artificial intelligence technologies to build innovative solutions that provide better services to the end users. There are also partnerships with governmental entities and universities, working on R&D projects involving artificial intelligence, or document management systems respectively.
Similarly to many industries around the United Kingdom and the wider world, Qualimental Technologies found itself facing challenges in 2020. When COVID-19 hit the country, Qualimental Technologies started to lose private sector clients, and the firm has since had to resort to primarily working with public sector clients on new projects and private sector clients now only have maintenance projects remaining. Data science projects require relatively big investments in general, especially when compared to pure application development. It is a risky process, given that the investment might not necessarily bring the expected outcomes and results and there is longer return to investment. Artificial intelligence is very much a marathon rather than a sprint, and it is here to stay. Thanks to these reasons and the nature of data science projects carried out by Qualimental Technologies, companies and investors alike are more cautious than ever before in investing in data science projects. COVID-19 has exacerbated these worries and concerns, and there are trying times ahead for the team at Qualimental Technologies.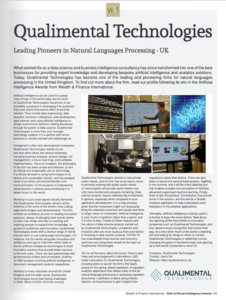 Yet, for all the worry about the future, there is also hope and encouragement in abundance. 2021 holds many plans for Qualimental Technologies, including plans to launch the firm's first SaaS product in the spring, called LawNotion. A regulation analytics application that utilises state-of-the-art natural language processing in assessing regulation documents, LawNotion enables policymakers, lawyers, and businesses to gain insights from regulations easier than before. There are also plans to launch he second SaaS product, TagWink, in the summer, and it will be a text labelling tool that enables complex text annotation to facilitate advanced supervised machine learning. Finally, there is also the product, Constellytics, that should arrive in the autumn, and this will be a flexible analytics application to help understand users' interaction in the software applications.
Ultimately, artificial intelligence is being used in a myriad of ways like never before. New doors are opening all the time thanks to innovative companies such as Qualimental Technologies, and they deserve every recognition that comes their way. At a time when much of the world is standing still and waiting for things to return to normal, Qualimental Technologies is redefining normal, changing the game in wonderful ways and opening up a new world of potential to return to.